Shell Park
Shell Park, which is located on the north side of the Kern River across from Hart Park and next to Camp Okihi on Round Mountain Rd., has been neglected for years. It gets its name from Shell Oil Company, which formerly owned the property. It is part of the Kern River County Park, which includes Hart Park,  Shell Park,  Camp Okihi,  CALM,  Lake Ming, and the Kern River Golf Course. The county is placing 3.5 miles of bike lane on Round Mountain Rd., and reinforced barrier which will allow pedestrian traffic, but no vehicle traffic, into Shell Park. Rehabilitation efforts for Shell Park will continue, including the installation of a barrier between Shell Park and Camp Okihi.
Update: New public access parking lot, vehicle railing, security gate, and access maze at Shell Park entrance. Unauthorized vehicles are prohibited. Good work by County Parks & Rec. Division and Public Works- thank you!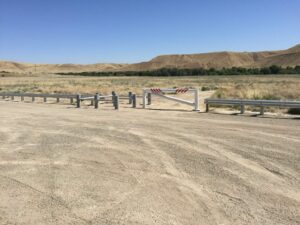 Kern River Parkway Map
We're partnering with other groups and government entities on the creation of a map to show Bakersfield residents and visitors all the Parkway has to offer.  This map is much needed, and we're looking forward to working on it. 
Bike/Multi-Use path "Oasis" west of Allen Rd.
If you have been on the path west of Allen Rd., you are probably very aware of the lack of shade and drinking water in that area. We plan to work with the City of Bakersfield and private interests to fund shade structures over the benches, and a drinking fountain on the path between Allen Rd. and Enos Ln.
Invasive plants and animals
Invasive, non-native plants and animals have become an expensive problem in the Parkway. Water hyacinth clogs our river and weirs. Red-eared slider turtles have been released into the river and park lakes, where they reproduce and crowd out native species. Saltcedar shrubs/trees, while pretty, have spread rapidly along the Parkway, and crowd out native shrubs and trees. We plan to work with city and county staff on this issue.